Razza77 is a typical variety of Italian rice growing and one of the most interesting from the historical point of view. From its appearance at the end of the 1930s, it has been appreciated for its culinary characteristics in the preparation of traditional risotto.
Still, in spite of these perfect qualities, in the 70s the market law imposed more productive varieties of rice, which led to the gradual abandonment of Razza77 until its complete disappearance.
Thanks to the passion passed by the maternal grandfather who cultivated Razza77 in Tornaco in the 1950s, Domenico Bernascone, together with Fabrizio Rizzotti and Silvio Nai Oleari, decided to guide the recovery project of this historic variety, making it a standard bearer of the territory of Novara and its rice-growing culture.
It's hard to believe that the Bernascone Family's connection to the rice is quite recent and began in the1950s when Giovanni, Domenico's dad, started as business agent selling cereals. Historically the Bernascone family came from Switzerland and had a long tradition as master builders and masons.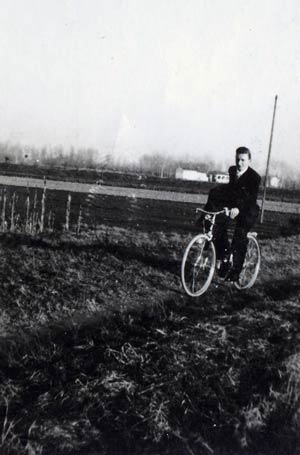 The passion for the rice and the call of the rice-field that have guided Domenico in the project came above all from the mother's side of the family, or rather the Franchino. Always tied to the land and to the cultivation of the rice, from the beginning of the1800s the Franchino were present near Vercelli initially as tenant farmers and then as land owners. They managed to get through a very turbulent period for Italy, mainly the Napoleonic domination and the Wars of Independence: the Second War of Independence in fact was fought on the shores of the river Sesia few kilometres from Prarolo the birthplace of the Franchino Family living in different farms such as the Colombina farm
In early 1920s Andrew Franchino, Domenico's young maternal grandfather became one of the first Vercelli rice-growers to try the practice of transplanting the rice, introduced in Italy by Novello Novelli.
Andrew and his brothers Antonio and Francesco purchased the farm Poncarate di Confienza becoming actual owners and no more tenant farmers. Subsequently they transferred to Nibbiola in the territory of Novara where they lived through the time of War, transmitting numerous family anecdotes about the end of the World War II experienced in the countryside and in the farms on the Plain.
For a short period they passed lived in the Bianca farm, between Confienza and Vespolate, then definitively in Tornaco where they were established to the Tambussa farm in the early 1950s.
It is in this period that Razza77 started imposing itself on the market, becoming the main rice produced by the family on the plain.
The choice to bring Razza77 back to life also honours the memory of a man and his family who through the centuries have dedicated and tied their lives to the rice cultivation.